This 15 minute HIIT workout is short on time but big on fat burn! Do it at home or at the gym on those days when you don't have an hour, or even 30 minutes. We've got your workout covered.
What's the one thing most of us would like to have more of, but is seemingly impossible to find? If you guessed "time," you're like so many others who struggle to find enough time in the day for all the chores, responsibilities, deadlines on top of a quality workout. Fortunately for the overextended among us, there is a way to squeeze in a great workout without having to spend hours at the gym. If you've got 15 minutes, you have enough time for a killer workout that will torch calories and improve your fitness level without getting in the way of completing the rest of your daily to-do list. What's the secret? It's high-intensity interval training, or HIIT.  
HIIT is a form of interval training that involves short periods of maximum aerobic training, where you work as hard as you possibly can, followed by longer intervals of low- to moderate-intensity exercise. Instead of using heart rate as a guide, HIIT focuses on perceived effort to determine whether or not you're working as hard as possible. While the concept sounds simple, HIIT is physically demanding and not for the beginning exerciser. Use caution if you've not tried a workout like this before.
Each workout should begin with a five-minute warm up and end with a five-minute cool down. To maximize fat loss, maintain an intensity level of 60 to 70 percent of your maximum heart rate (RPE of five to six on the 10-point scale) during warm up, cool down and recovery intervals.
There are three rounds of five exercises in this workout. Perform each exercise for 30 seconds at an all-out effort, followed by a 30-second recovery interval of marching in place or slowly jogging. Complete all five exercises to complete one round. As you become more fit, add more rounds, increase the duration of the "work" intervals or decrease the duration of the recovery intervals to continue to challenge yourself.
SparkPeople Community Director and Fitness Coach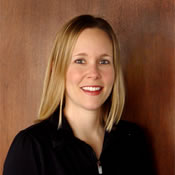 Jen Mueller left her first career in corporate finance to earn a master's degree in health education. She is a busy mom of four and holds a number of fitness certifications (including ACE's Health Coach, Personal Trainer, Medical Exercise Specialist and Behavior Change Specialist). She is passionate about helping people reach their health and fitness goals. In her spare time, Jen loves running, kickboxing and spending time with her family. Jen enjoys blogging about raising healthy children and how small behavior changes can impact health and quality of life.